Community Involvement has always been a cornerstone of The Allen Group's approach to business. Richard Allen's philosophy is that in order to be successful, you must be a strong supporter of the local communities you serve. This has been an ongoing tradition, as members of the Allen family have continually been generous partners to the communities in which they do business.
This philosophy of community involvement dates back to 1989 when the Allen family sold their successful manufacturing business, Imperial Cup Corporation, to Federal Paper Board. After the completion of the sale, Richard's parents wanted to give back to the community in a big way. The family gave $1.3 million to create the R.E. & Joan Allen Scholarship Foundation, which gives students the financial support they need to further their education at technical schools or universities. Each year R.E. Allen and family members travel back to the awards ceremony in Kenton, Ohio, presenting each scholarship in person.
Today, The Allen Group has implemented the same philosophy with resounding results. The Company has developed partnerships with educational institutions in Dallas, Texas to support the development of logistics and supply chain management programs at the high school, community college and university level. In Gardner, Kansas, where the Company is developing its newest logistics park, The Allen Group became a major sponsor of the city's 150th Sesquicentennial Celebration.
In addition to the many educational and community activities that The Allen Group becomes a part of, the Company has also supported organizations that provide contractor training. Most recently, The Allen Group facilitated a partnership between federal, state and local transportation entities to support a business program for contractors, which included training in business plan development and bidding for projects.
The Allen Group has been recognized for its numerous community contributions. In 2000, Richard Allen was honored by Ernst & Young as San Diego's "Entrepreneur of the Year." Recently, the Company received a Merit Award at the 2006 Regional Momentum Awards Ceremony in Dallas for its community involvement, and has also been nominated as "Corporation of the Year" for its efforts to promote women- and minority-owned businesses within the Dallas Metroplex.
The Company remains committed to its corporate giving philosophy through volunteer opportunities, sponsorships, scholarships and corporate donations.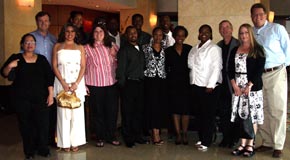 Richard Allen visits with students from Cedar Valley College during a music conference in Hollywood, CA.
Allen Group Fast Facts:
Company Founded in 1991
Industrial, Office & Retail Developments
Offices in San Diego, Visalia & Dallas
Building Portfolio Ranges 35,000 SF to 1.7M SF
2,500 Acres of Land Under Development
Active Projects in California, Texas & Kansas
Class A Build-to-Suit and Speculative Developments